We are a company specialized in processing and selling seafood products.
We offer a wide range of natural, precooked and elaborated frozen products produced from species caught and frozen at sea.
To satisfy our clients' needs with products of the highest quality, as well as with the best service and attention. For this reason, we are continuously working on improvement processes.
Founded in 1984 and located in the Port of Marín, Pontevedra, Spain.
It is a plant specialized in the production of natural and precooked products and equipped with modern lines of production and packaging, its own laboratory, and advanced freezing systems.
It is moreover the main logistics platform of our group: its unbeatable location a few meters from the dock and a refrigeration capacity of 37,000 m³ allow us to carry out unloading, packaging, storage and distribution operations for large vessels, guaranteeing the maintenance of the cold chain and the correct handling of the goods.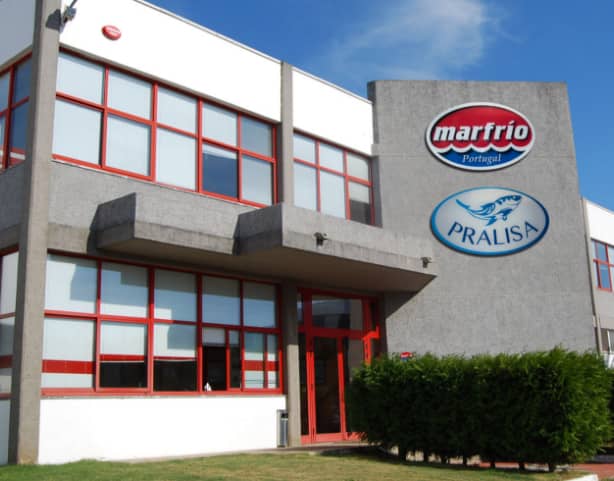 Founded in 1995 and located in Vilanova de Cerveira, Portugal.
It was created with the aim of expanding our production and distribution capacity, in order to expand our range of products and formats, in order to respond to increasingly demanding consumers.
The work carried out in this 32,000 m³ plant focuses on complex and highly versatile manufacturing and packaging processes that allow us to offer our customers a wide range of products with a modern packaging that facilitates the consumer's everyday life
It became part of the Marfrio Group in 2013, with the name Marfrío Perú S.A. Thanks to its incorporation we achieved greater control over raw products, directly from the source.
This factory is specialized in the Peruvian squid, which is the basis of some products that the company develops in the North of Spain and Portugal.
Its 5,000 m³ plant has a storage capacity of 1,100 tons and has a production capacity of 40 tons per day.
This company joined the Group in 2015, channeling activity in the African fishing ground.
The acquisition of a new vessel, the Jonas, has allowed us to position ourselves in the most important fishing grounds and guarantee the supply of a raw material such as hake.
Specifically, this investment gives us access to 3,000 tons of fish quota – 90% hake, in addition to monkfish and roseate-.
Type: Trawler
Length: 34,22 m
Wiidth: 31,64 m
Breadth: 8,50 m
Depth to main deck: 3,60 m
Depth to upper deck: 5,80 m
Main engine power rating: 1350 Cv
Gross ton: 374 Tn
Storage capacity: 245 m3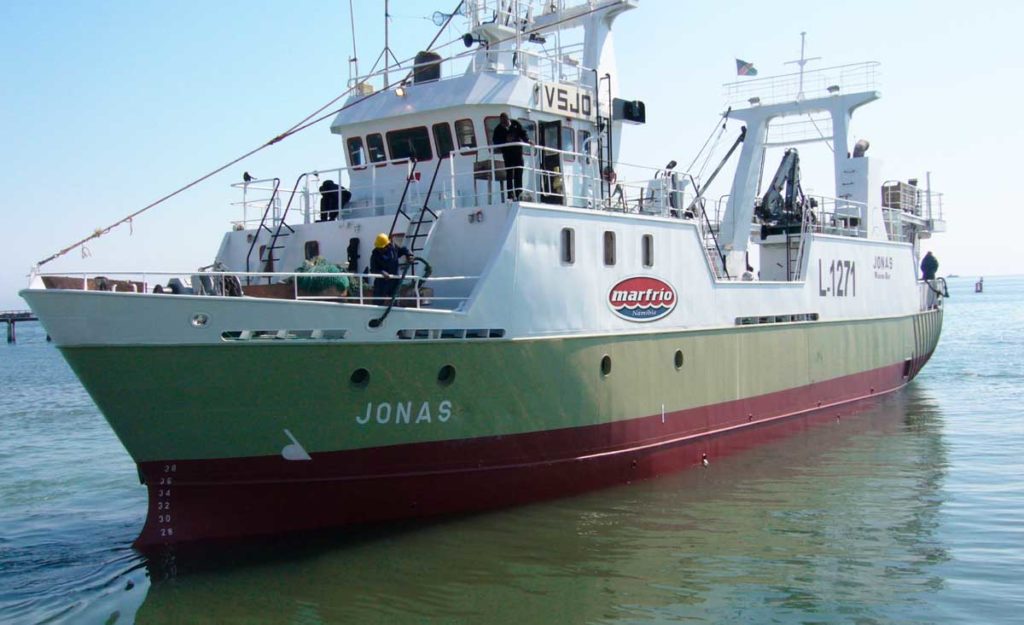 Central lomera portuguesa
Our factory in Vilanova de Cerveira, specialized in high-end precooked tuna.
Inaugurated at the end of 2018, it is a 50% project with our partner Atunlo.
It has a production capacity of 20,000 tons of annual product. And it is equipped with a 8,100 m3 cold room.
Central Lomera Portuguesa focuses on the production, transformation, storage and distribution of tuna derivatives.
Captured in the best fishing grounds in the world by the ship Igueldo.
That allows us to: process, elaborate and deep-freeze on board, guaranteeing that it always maintains its original qualities and seeking the highest quality.
Type: Trawler
Length: 83,20 m
Width: 72,50 m
Breadth: 13,50 m
Depth to main deck: 6 m
Depth to upper deck: 8,40 m
Main engine power rating: 3000Cv
Gross ton: 2305 Tn
Storage capacity: 2146 m3
We are committed to managing the waste from our production.
For this reason, we adhere to the ECOEMBES SIG (Integrated Management System), guaranteeing the correct management of the domestic packaging that we put on the market.
We also supply products with the MSC certificate, guaranteeing our customers greater quality.
Our quality management systems are certified in the ISO 9001 quality and IFS Food Food Safety standards.
Both have the ultimate goal of customer satisfaction and continuous improvement as a methodology.
If you want to know more about our quality policy, you can request further information through our contact, asking for the quality department.
The jury of the International Taste & Quality Institute of Brussels, made up of experts from prestigious culinary associations from 13 different countries, conducts blind tastings according to a rigorous process of sensory analysis of the candidate products, rewarding those that meet their criteria of excellence.
In the 2023 edition we have received this distinction for the 11st  year.
Now that you know what we do, how we do it and what moves us, maybe you'd like to ...
Discover our selection of seafood products.
Ask us or propose something, or become part of the team.